Yesterday was the most fun I've had at school yet!!
We had an 'Academy Artistic' event, the plan was to pick your favorite fashion designer, and create a hairstyle that reflects some of their work. Along with that we needed to turn in a short essay and storyboard. I guess it was a competition too? though I don't know what the prizes were or anything, but anywho, my designer I chose was Tarina Tarantino, so of course I needed to make some PINK HAIR. Luckliy one girl at my school was brave enough to be the pinkhead, so I lightened her hair and then did foils of very very pale pink highlights and hot pink lowlights over cotton candy pink, and then hot hot electric pink underneath that. Her ends in the front blended to a darker pink though too, since we couldn't lighten those pieces enough, but it worked out lovely!! I styled her hair in ringlets and made it big in the back to go with my hello kitty headband, her hair resembled frenchy from grease, it was so cute. Then for the competition they had professional photographers! It was really amazing!!! Like watching a top model photoshoot, and then to see the creations of the other girls was so incredible! I COULD DO THIS EVERY DAY.
+ I did makeup for three girls at the show, which was soooo much fun. One girl had leopard print eyes <3
++ I will post the professional photos as soon as I get them!!!!!!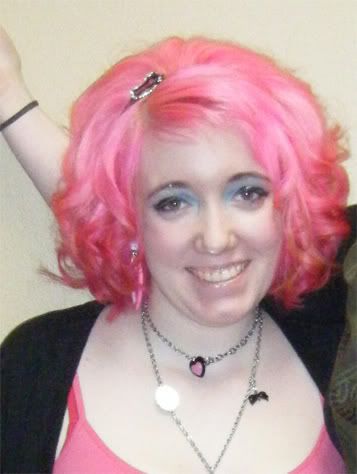 that's what I've got for now!